BRIAN OLATUNJI BIOGRAPHY
Even before his riveting entrance into this world,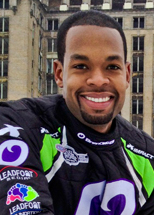 Brian Olatunji was already engulfed in a history full of racing. This young Detroit native has a passion for fast cars, and rightfully so, since most of his childhood was spent at a race track. Brian O's racing history stems from his family's involvement as management of the now defunct Detroit Dragway and Motor City Dragway. Growing up in the challenging neighborhoods of the Motor City, his passion for the pursuit of speed motivated him to push forward towards racing stardom. The next evolutionary step in this quest is competing in NHRA Nitro Funny Car!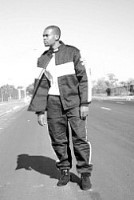 Brian O's progression as a driver landed him in the seat of a 230 mph methanol breathing beast, also known as an NHRA Top Methanol Funny Car. His hard work, integrity, dedication and education are the cornerstones on which Brian O has established himself not only as a threat on the asphalt, but also as a great spokesperson and ambassador for those chasing a dream.
Formally educated at Kettering University (previously General Motors Institute) located in Flint, MI, Brian earned a Bachelor of Science in Mechanical Engineering in 2005. Fostered in the General Motors co-op program, Brian worked his way from co-op student to successful engineer. Eventually Brian O was promoted to program manager of a $400 Million dollar seating account. He was the youngest in Faurecia Automotive Company history to hold the position.
Brian O is much more than a driver. His entrepreneurial spirit is shown as President and CEO of his own marketing company, Leadfoot Media™, which operates a NHRA Super Gas race team. Together they procured corporate powerhouse Pepsi as a primary sponsor. In 2010, the U.S. Army got behind Brian's NHRA Super Gas drag racing efforts. Impressed with his dedication on and off the track, Olatunji was asked to be a spokesman for the U.S. Army. Brian has competed in the fast and furious world of NHRA drag racing for the past 15 years in various categories.
For the 2012 season, Brian Olatunji faced his most challenging racing season to date - without a major sponsor. After years of successful partnership with Pepsi and the U.S. Army, Brian O and his team battled against the odds and the clock to compete for championship glory. Adding to the drama were camera crews that chronicled every second of Brian's life. Olatunji starred in the prime time reality series Dream's to Champions on FOX Sports Speed Channel in 2013. Due its success on Speed Channel, the show reaired on Velocity Channel by Discovery in 2014. Olatunji is currently in hot pursuit of opportunities for racing destiny in NHRA Nitro Funny Car, the sport's loudest and most popular class.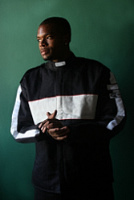 Brian O is also the most recent past vice president of the 100 Black Men of Greater Detroit and the youngest executive member in the chapter's 20 year history. Michigan FrontPage recognized Brian Olatunji as one of its Top 30 Under 40 in 2010. 2011 was a landmark year when his alma mater Kettering University honored Olatunji as alumni Entrepreneur of the Year! Business success was again recognized in 2012 when Crain's Business Detroit recognized Olatunji as one of their 20 in their 20's. 2015 is off to a brisk start with Olatunji being awarded as one of the Oakland County Executive's Elite 40 under 40 years old!

Understanding the best part of receiving is giving, Brian has set forth numerous charitable goals. As Chairman, the Leadfoot Foundation's mission is to empower underprivileged youth by providing support in the form of educational programs and mentoring.

Brian O's competitive nature revolves around winning in life and on the racetrack. Now his sights are set on the top. A cool blend of invigorating energy, excitement and experience… Presenting "The Leadfoot," Brian Olatunji!






BRIAN OLATUNJI ACHIEVEMENTS



RACE CAR DRIVER
• Licensed NHRA Top Alcohol Funny Car (TAFC) Driver - 230 MPH
• 15 Seasons of NHRA Competition (All Motor, Super Gas & TAFC Divisions)
• 2006 - 2009 Von Dutch Originals Driver & Spokesperson
• 2009 - 2011 Pepsi (Primary Sponsor) Driver & Spokesperson
• 2010 - 2011 U.S. Army Driver & Spokesperson
• 2013 Star of FOX Sports Speed Channel Primetime TV Series Dreams to Champions
• 2014 Star of Velocity by Discovery TV Series Dreams to Champions


BUSINESS MAN & ENGINEER
• Bachelor of Science in Mechanical Engineering
(Kettering University 2005 Graduate)
• 2010 Michigan Front Page Top 30 Under 40 Years Old
• 2011 Kettering University Alumni Entrepruneur of the Year
• 2012 Crains Business Detroit - Twenty in their 20's Award
• 2012 Crains Business Detroit - Twenty in their 20's Award
• 2015 Oakland County Executive's Elite 40 Under 40 Year Old Award
• 10+ Years of Corporate America Practice (GM, Delphi & Ford)
• Owner of Private Marketing Firm – Leadfoot Media™
• Team Owner of Drag Racing Assets


PHILANTHROPIST
• Chairman - Leadfoot Foundation, Inc. (Charitable Organization)
• Community Mentor to Inner-City Youth
• Vice President - 100 Black Men of Greater Detroit (Charitable Organization)
Youngest executive member in the chapter's history
• Ambassador - Urban Youth Racing School (Charitable Organization)